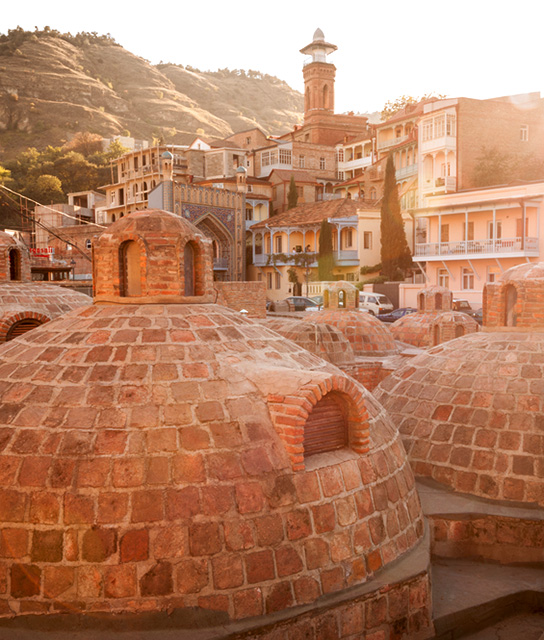 Luxury Hotels in Tbilisi, Georgia
Despite centuries of onslaughts from unfriendly neighbors, the Georgian culture and spirit have remained. Nowhere is this stronger than in Tbilisi, the country's capital. Here, the city's resilience can be seen in a cultural vibrancy that includes a unique art scene, revamped museums, old churches, and the cute little alleys with local shops that gave Tbilisi the nickname "Paris of Eurasia". The architecture of the city also comes in a range of styles: old Tbilisi, communist, classical, and new Tbilisi (read: modern). Hotels in Tbilisi are famed for Georgian hospitality, a unique quality that warms most visitors instantly to this land. Don't miss out on the colorful little markets offering fresh vegetables, fruits, and even local crafts. Or better yet, the cuisine, which is often described as a national treasure by the locals, and features flavorsome dishes with walnuts, pomegranates, garlic, aubergines, and plums used to devastating effect. Tbilisi hotels are also the perfect guides to point you to the right sulphur baths; housed in ancient brick domes, the baths are a great place to seek renewal of body, mind, and soul. Below find a list of our selection of luxury and boutique hotel in Tbilisi.
Bringing old and new Georgia together in the intellectual and cultural district of Vera, Rooms Hotel Tbilisi represents the Georgian capital's exciting new wave of young designers.
Embodying the zeitgeist of contemporary Tbilisi, Stamba Hotel is a living, breathing reflection of the city's growing global significance and refined dynamism.