Gezi Hotel Bosphorus
Member since 08/2012 Rooms 67 Architecture METEX DESIGN GROUP Interior Design METEX DESIGN GROUP
The Original Can Atay
Hotels Facts & Figures
Member since
08/2012
Rooms
67
Architecture
METEX DESIGN GROUP
Interior
Design
METEX DESIGN GROUP
The Original
Can Atay
Book

1
Room

,

1

Adults
Select your desired check-in and check-out dates to view the best rate
Rooms
Matching Your Dates
March 8, 2015 – March 11, 2015
View All Rooms
Deluxe Garden or Park View

26sqm (280sqft)
Double Bed or 2 Single Beds
Garden View with Balcony (5sqm or 54sqft) or Park View with Jumba Seating
Free WLAN

Book Now

Deluxe Bosphorus

add only USD 30 /night

28sqm (301sqft)
Double Bed
Feature Bosphorus Views
Free WLAN

Book Now

Deluxe Bosphorus Corner

add only USD 39 /night

32sqm (344sqft)
Double Bed
Window Side Jumba Seating with Bosphorus Views
Free WLAN

Book Now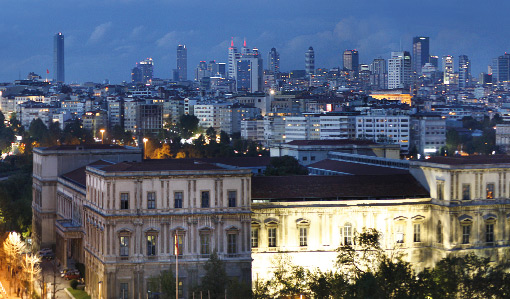 In Istanbul, all roads lead to Taksim Square. This vibrant nervous system of modern Istanbul pulses with lively cafés, bustling offices and exciting shops. However, only a few steps away from the high-key buzz of the square, an air of calm prevails. Here, the Gezi Hotel Bosphorus offers its guests a retreat right in the heart of Istanbul. Located directly across from Taksim Gezi Park, the green-certified hotel cultivates beauty inside and out with soothing rooms that offer breathtaking views of the strait, the park, and the property's own garden—a quiet refuge in the heart of modern Istanbul.
ARCHITECTURE
Sinan Kafadar
A 17-story zinc and titanium façade peers out over the Bosphorus. Gently curved, as if to embrace the city, the building evokes a modern spin on the architectural styles of the 1940s-and 50s. The acclaimed Turkish architect Sinan Kafadar restructured the building according to his signature fusion of timeless design with up-to-date green technology. Refurbished according to ecologically friendly principles, particularly in regards to energy and water conservation, Gezi Hotel Bosphorus is practically zero-emission, earning it Turkey's acclaimed "Greening Hotels" certification.
INTERIOR DESIGN
Room with a view
The high-quality wood and leather used in furnishings throughout provide a warm, cozy atmosphere that is amplified by a contemporary design ethos that fuses the rich color-blocking of Piet Mondrian with high tech flourishes. Yet windows provide the real glimpse into the soul of the property: each of the 56 rooms and eleven suites feature anti-reflection panoramic windows that offer sweeping views.
MADE BY ORIGINALS
Can Atay
An Istanbul native, Can Atay studied business and finance in the United States and began his career as an entrepreneur abroad working with the automotive and construction sectors. Upon his return to Istanbul, the passionate sailor teamed up with his father Etugrul Atay in the family business of tourism and real estate investment. As a business man himself, Atay understands what a business traveler needs: comfort, concentration, and a central location. The hotelier has a keen eye for detail and an unremitting focus on perfection. Under Atay's direction, the hotel is kitted out with every conceivable amenity for a pleasant stay—from personal in-room business centers to the lively social atmosphere of the hotel's bar and restaurant.
Deals

for Gezi Hotel Bosphorus
Complimentary night

Complimentary breakfast

Miles & More

Discounted rates

Complimentary breakfast

Miles & More

Complimentary upgrade

Complimentary breakfast

Miles & More
Great Deals at Other Design HotelsTM