Nira Alpina
Member since 07/2011 Rooms 70 Architecture Dolenc Scheiwiller AG, Volpe Architects Interior Design Puri
The Original Puri
Hotels Facts & Figures
Member since
07/2011
Rooms
70
Architecture
Dolenc Scheiwiller AG, Volpe Architects
Interior
Design
Puri
The Original
Puri
Book

1
Room

,

1

Adults
Select your desired check-in and check-out dates to view the best rate
Rooms
Matching Your Dates
March 17, 2015 – March 24, 2015
View All Rooms
Corvatsch Room

24sqm (258sqft)
King Bed
Air Conditioning
Bathtub

Book Now

Mountain View Room

add only USD 52 /night

20sqm (215sqft)
King Bed or 2 Twin Beds
Air Conditioning
Shower

Book Now

Alpine Junior Suite

add only USD 154 /night

50sqm (538sqft)
King Bed and Single Bed
Air Conditioning
Bathtub and Shower

Book Now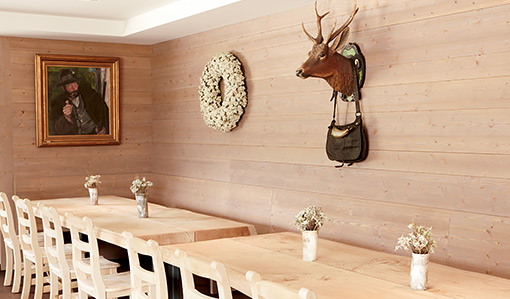 One of the joys of staying at Nira Alpina, a glass-and-timber-built mountain sanctuary just five kilometers from the popular resort town of St. Moritz, is being able to ski right up to the entrance. Sitting atop the village of Silvaplana, Nira Alpina is the gateway to some of Switzerland's highest mountains. The hotel appeals to summer and winter adventurers: 120 kilometers of ski runs rush down the slopes towards Silvaplana Lake at the middle of the mountain range, and the surrounding area offers exceptional hiking/biking trails, windsurfing, sailing, and canoeing. Inside, award-winning hotelier Puri has created a soothing space for travelers to enjoy the Swiss Alpine style and unobstructed views of the mountains. Locally-sourced materials like wood and granite are just as likely to be seen as elegant swathes of glass, which let the outside world become a part of the building's interior.
Architecture
Swiss Surprise
At Nira Alpina, not only can one connect directly with a nearby cable car station via a glassed-in covered walkway, but the building has been skillfully sculpted to let the scenery shine through. Spacious balconies and terraces hug onto the sides, providing spectacular views of a plateau that's studded with turquoise lakes. And all over, whether in the rooms or the restaurants, there are glass windows that flood the building with sunlight. Throughout the layered wooden building, modern minimalism sits comfortably alongside traditional local materials. From the outside, this is most visible with timber beams and sheets of polished glass moving skywards simultaneously in smooth, ascending lines. Special care has been taken to ensure that even with such large amounts of glass, the building meets the latest environmental standards. Throughout the year, geothermal power keeps the building warm.
Interior Design
Warm Welcome
Designed as a sanctuary, Nira Alpina avoids formality and decadence. Instead, you're greeted with eclectic interior design that uses superior local materials to create a subtle sense of hedonism. In the rooms and suites, one finds the perfect balance between regional charm and the comforts of modern living, with Swiss spruce abounding and floor-to-ceiling windows gazing upon the Engadin Mountains.
Made by Originals
Puri
After four decades working for some of the world's biggest hotel brands, such as Rosewood, Ritz-Carlton, Raffles, Fairmont, and Peninsula, Puri struck out on his own in 2008. He knew that in order to deliver the kind of service and attention to detail he wanted, his future would have to lay with smaller, boutique properties. After launching his first Nira-branded hotels in Mauritius and Edinburgh, he opened Nira Alpina, a modern mountain resort in the historic Swiss town of St. Moritz that has helped remake alpine luxury for a new generation of travelers.
Stay 2 nights and save up to 20%

Complimentary breakfast

Miles & More

2 complimentary nights

Complimentary breakfast

Miles & More
Great Deals at Other Design HotelsTM