Semiramis
Member since 11/2003 Rooms 51 Architecture Karim Rashid Interior Design Karim Rashid
The Original Dakis Joannou
Hotels Facts & Figures
Member since
11/2003
Rooms
51
Architecture
Karim Rashid
Interior
Design
Karim Rashid
The Original
Dakis Joannou
Book

1
Room

,

1

Adults
Select your desired check-in and check-out dates to view the best rate
Rooms
Matching Your Dates
March 21, 2015 – March 23, 2015
View All Rooms
Standard Room

23sqm (248sqft)
Queen Bed
Air Conditioning
Shower

Book Now

Superior Room

add only USD 9 /night

25sqm (269sqft)
Park or Pool view
Queen Bed
Air Conditioning

Book Now

Pool Bungalow

add only USD 22 /night

25sqm (269sqft)
King Size Bed
Air Conditioning
Private garden

Book Now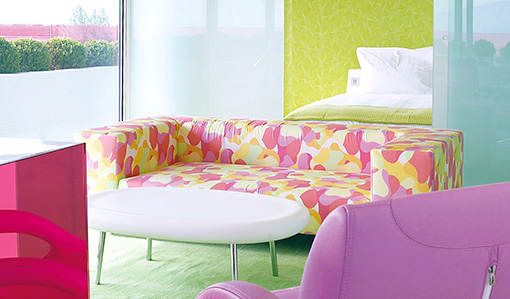 Design star Karim Rashid's dazzling display of lollipop colors and organically shaped furniture plays happily alongside a rotating collection of contemporary fine art, handpicked by owner and art collector Dakis Joannou. Semiramis is a feast for the eyes for any guest, with works by Tim Noble, Sue Webster or Jeff Koons adorning the walls and representing the best of contemporary art. With an extra element of cheekiness, guests are encouraged to play with Rashid's device for communicating with the outside world. Instead of the boring "Do Not Disturb" signs, he offers electronic message boards, which guests can personalize from their in-room keyboards. He describes his overall view of Semiramis as, "an intimate hotel that focuses on positive energy, heightened experiences, culture, design, and art. Semiramis is a place for new contemporary experiences – to enjoy, relax, work, and engage a new memorable experience unlike any other or anywhere else in the world."
Architecture
Karim Rashid
Commissioned by art patron Dakis Joannou, Semiramis is entirely the creation of Egyptian-British industrial designer Karim Rashid. Guests entering through the glowing pink glass cube into a lobby know they are in store for something radically different than the city's classic architecture. Semiramis' guestrooms, suites and poolside bungalows offer both the use of creative materials (like the opaque glass bathroom wall) and playful design, such as the light-box art installations behind each bed. The designer takes an innovative approach in mixing textures and materials: colored concrete with rubber floors, for example, or ceramic tiles with metal and epoxy with dark wood. Innovative technology is also a given in Rashid's 21st century concept.
Interior Design
Juicy colors and lively light
Bold color schemes and Rashid's signature furniture - including his Wavelength Sofa and Swing Chair - give this hotel its distinct look. Juicy pinks, oranges, greens and yellows make up the hotel's energizing color scheme, tinting everything from lobby couches to transparent glass partitions in the rooms. A lively lighting concept has been especially commissioned from Focus Lighting in New York, under the direction of principal designer Paul Gregory.
Made by Originals
Dakis Joannou
Dakis Joannou, the hardworking owner of Yes! Hotels, is one of the foremost collectors of contemporary European art in Greece. And when it comes to hospitality, he's just as dedicated to the cause. Working alongside innovative interior designers such as Brazil's Campana brothers, he has left his cool-as-ice hallmark on three Athens icons – Periscope Hotel, Semiramis, and New Hotel. As a member of the Board of Trustees at the New Museum of Contemporary Art in New York, a member of the International Directors Council of the Solomon R. Guggenheim Foundation, and cofounder of DESTE Foundation for Contemporary Arts, Dakis Joannou is surrounded by the subjects that inspire him:art, design, and architecture.
Complimentary night

Complimentary breakfast

Miles & More

Complimentary upgrade

Complimentary breakfast

Miles & More
Great Deals at Other Design HotelsTM