Stallmästaregården
Member since 10/2011 Rooms 49 Architecture Rits Arkitekter AB Interior Design Richard Lundberg
The Original Alessandro Catenacci
Hotels Facts & Figures
Member since
10/2011
Rooms
49
Architecture
Rits Arkitekter AB
Interior
Design
Richard Lundberg
The Original
Alessandro Catenacci
Book

1
Room

,

1

Adults
Select your desired check-in and check-out dates to view the best rate
Rooms
Matching Your Dates
March 27, 2015 – March 29, 2015
View All Rooms
Classic

~18 square metres
One double bed or two twin beds
Free WiFi
Shower or Bathtub ...

Book Now

Superior

add only USD 20 /night

~19 square metres
View over the hotel garden
One double bed or two twin beds
Free WiFi

Book Now

Deluxe

add only USD 41 /night

~20 square metres
View over the hotel garden
Your own patio
One double bed

Book Now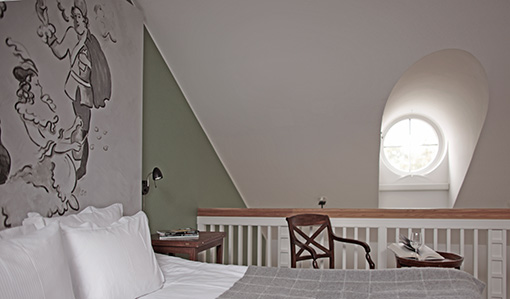 The first inn in Stockholm, Stallmästaregården played host to Sweden's Queen Kristina in the mid-1600's. Since then, the well-to-do residents of Sweden's island-dotted capital have continued to make it their own. Today, owner and Nobis Group CEO Alessandro Catenacci has expertly added to the original hotel building, recreating the cluster of rustic structures. Its peaceful and idyllic setting overlooks tree-fringed bay of Brunnsviken in the Royal National City Park and is just a short walk from Stockholm's city center. Close by are Vasastan's neo-Renaissance style buildings, which house art galleries, cafés, and inventive Swedish design emporiums. The rooms at Stallmästaregården are painted in pastel shades of yellow and blue, with subtle Chinese touches and a nod to the clean lines and floral fabrics of 18th-century Swedish décor. Put it together and it makes Stallmästaregården a choice that's fit for royalty.
ARCHITECTURE
Midsummer Night's Dream
Stallmästaregården was originally a farm owned by stable master Ebbe Håkansson, who quickly turned it into a hotel after Queen Kristina decided she would like to hold her midsummer celebration there in 1645. It is not hard to see why, with sublime views over Brunnsviken Bay and the royal residences of the city center so close by. Since then, it has been an inn, restaurant and pub in various guises before becoming the sensitively-remodeled hotel and conference venue it is today. In 2000, the new hotel building was added, merging seamlessly with the remainder of the centuries-old hotel.
INTERIOR DESIGN
A Feast for the Eyes
Stallmästaregården has space to suit any kind of event, from the vast old courthouse's banqueting room, with its drooping chandeliers and mural paintings, to the intimate Queen Kristina Pavilion—a garden-wrapped gazebo overlooking the bay, which seats just six. In the main restaurant, diners watch as chefs prepare Swedish dishes in an open kitchen with charcoal grill, rotisserie, and smokehouse.
MADE BY ORIGINALS
Alessandro Catenacci
Alessandro Catenacci is the driving force behind many of Stockholm's top restaurants, nightclubs, and hotels. His Italian name may reveal his Roman origins, but a distinctly Scandinavian sense of luxury is obvious in everything Catenacci does. Most of all he hopes to offer guests places where they can feel as comfortable and humbly self-assured as he is. "I sometimes look at myself in the mirror and think, 'Am I really good at anything, or was it just luck'?"
Deals

for Stallmästaregården
Discounted rates

Complimentary breakfast

Miles & More

2 complimentary nights

Complimentary breakfast

Miles & More

Complimentary breakfast

Guaranteed late check-out

Miles & More
Great Deals at Other Design HotelsTM