Continentale
Member since 09/2002 Rooms 43 Architecture Michele Bönan Interior Design Michele Bönan
The Original Leonardo Ferragamo
Hotels Facts & Figures
Member since
09/2002
Rooms
43
Architecture
Michele Bönan
Interior
Design
Michele Bönan
The Original
Leonardo Ferragamo
Book

1
Room

,

1

Adults
Select your desired check-in and check-out dates to view the best rate
Rooms
Matching Your Dates
March 8, 2015 – March 10, 2015
View All Rooms
Continentale Single

20sqm (215sqft)
Single Bed
City View
WLAN

Book Now

Continentale Room

add only USD 35 /night

24sqm (258sqft)
Queen Bed or 2 Twin Beds
City View
WLAN

Book Now

Continentale Superior

add only USD 64 /night

26sqm (280sqft)
Double Bed
City View
WiFi

Book Now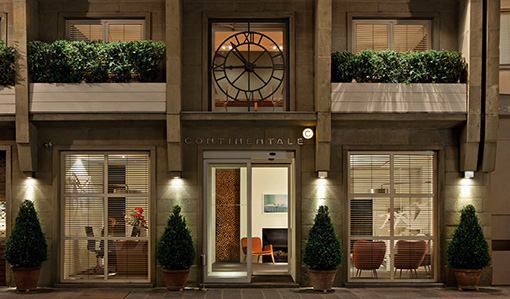 Generous, billowy curtains gently sweep guests into the Continentale from Florence's busy Ponte Vecchio—a medieval bridge spanning attractions such as the Ufizzi Gallery and the Pitti Palace. The crown jewel of the fashion design Ferragamo family's small chain of hotels, Continetale pays homage to the happy-go-lucky feel of the '50s and '60s with bubble-gum pink accents—a time warp in the middle of the romantic Italian city. Here, vintage and contemporary style is offset by just the right amount of playful kitsch. The cocktail lounge's bar glows in pastel tones, and the cozy breakfast room's pink-upholstered furnishings continue the mood without crossing into camp. Nods to glamorous vintage design are scattered throughout the hotel, but evenly balanced out by the color composition's happy-go-lucky charm.
ARCHITECTURE
Michele Bönan
Florentine architect Michele Bönan chose elegant and inviting white colors in an attempt to evoke harmony, simplicity, and fantasy in the re-design of this 14th century building. Time plays a subtle role in the design philosophy of the Continentale hotel and its scattered collection of clocks and watches will help you remember to take a break. Such as at the magnificent "La Terrazza", which is located on the top floor of the medieval Consorti tower and is the ultimate location to meet for a cocktail or a yoga class surrounded by the most beautiful views of Florence.
INTERIOR DESIGN
19th Century Noir
Sheer-draped beds and flowing curtains catch the Tuscan light in the hotel's 43 guestrooms, yet they also evoke the noir feeling of a 19th century steamer cabin, thanks to well-placed steel and leather accents. Black and white photographs taken by fashion designers such as Pucci and Fabiani in Florence in the 50s and 60s complete the glorious modern look.
MADE BY ORIGINALS
Leonardo Ferragamo
In Italy, family is everything. At barely twenty years of age, Leonardo Ferragamo entered the family empire of luxury goods, Salvatore Ferragamo, the choice of stars such as Audrey Hepburn and Sophia Loren. Within a few short years he was responsible for the creation and development of their menswear line, eventually becoming director of sales and development. Ferragamo's greatest love is sailing, a passion that led him to purchase the Nautor yacht company in 1998. These days, he heads the Lungarno Collection of contemporary design hotels— a tribute to the elegance and refined craftsmanship of Tuscany and to the grand style that his family is famous for.
Save 10%

Complimentary WiFi
Great Deals at Other Design HotelsTM