101 Hotel
Member since 09/2001 Rooms 38 Architecture Ingibjörg S. Pálmadóttir Interior Design Ingibjörg S. Pálmadóttir
The Original Ingibjörg S. Pálmadóttir
Hotels Facts & Figures
Member since
09/2001
Rooms
38
Architecture
Ingibjörg S. Pálmadóttir
Interior
Design
Ingibjörg S. Pálmadóttir
The Original
Ingibjörg S. Pálmadóttir
Book

1
Room

,

1

Adults
Select your desired check-in and check-out dates to view the best rate
Rooms
Matching Your Dates
March 25, 2015 – March 27, 2015
View All Rooms
Standard Room

Queen size bed
Four pillows in the bed
Large water closets with walk-in showers
Bathrobes

Book Now

Double Room

add only USD 40 /night

King size bed
Four pillows in the bed
Large water closets with walk-in showers
Bathrobes

Book Now

Junior Suite

add only USD 180 /night

2-way view of the city
King size bed
Four pillows in the bed
Large water closets with walk-in showers

Book Now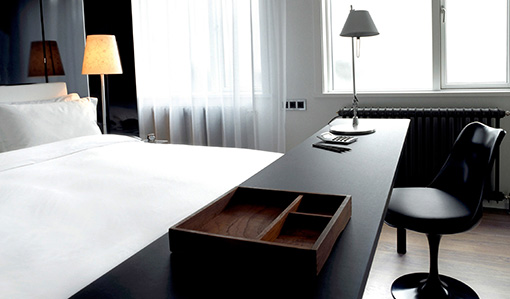 101 Hotel is undeniably cool. For Iceland's foremost foray into the realm of design-led hotels, owner and designer Ingibjörg S. Pálmadóttir, who has used modern lines, local artwork, and a palette of black, grey, and white to convey pure Nordic coolness. The spare, glossy, and masculine bar's style is an innovative mixture of Chinese lacquered tables, wooden blocks, and Edwardian chairs. It's a contrast to the restaurant's ladylike atmosphere, where a white dimpled mural runs alongside the glass roof, while guests can perch on iconic Eros chairs. Throughout the public areas, monochromatic design and clear lines showcase the hotel's collection of art by Icelandic artists.
ARCHITECTURE
A change of party
An unapologetic Nordic coolness pervades the atmosphere of the 101 Hotel, Iceland's first entry into the league of boutique hotels. Owner and designer Ingibjörg S. Pálmadóttir has created a hot spot out of the 1930s office building that was once home to the Icelandic Social Democratic Party. Right in the heart of Reykjavik's city centre, this little gem strengthens its connection to the art scene by being just next door to the Icelandic Opera House and nearby Pálmadóttir's 101 Gallery.
INTERIOR DESIGN
Rustic charm warms cool chic
Icelandic coolness melts away in the guestrooms' rustic warmth, which includes heated oak floors, white Italian bed linen, matte and glossy black furnishings, and a freestanding bathtub waiting to be filled with geothermal waters. Guests and locals gather in the communal lounge around tree-trunk tables and classic pieces by Eero Saarinen and Philippe Starck, all bathed in the warm glow of the wood-burning fireplace.
MADE BY ORIGINALS
Ingibjörg Pálmadóttir
From the time she was seven years old, Icelandic designer Ingibjörg Pálmadóttir knew she wanted to work in a creative field. "I used to redesign my room over and over again, but I didn't realize I could study interior design until I was twenty," she says. After graduating from Parsons School of Design in New York, Pálmadóttir returned to her native Iceland where she began working independently in the interior design industry. Among various other projects, she has designed a nightclub in Reykjavík, along with various cafés, restaurants, and hotels. She also designed the ultra-chic 101 Hotel, which opened in 2003 in the center of the Icelandic capital.
Up to 20% off

Miles & More
Great Deals at Other Design HotelsTM