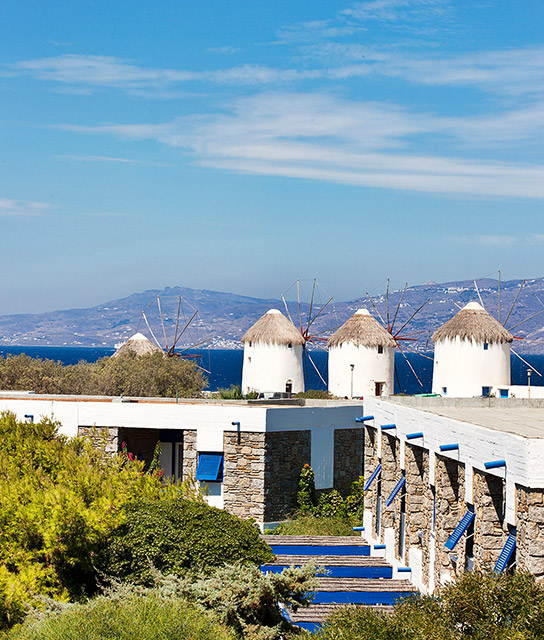 Mykonos
The Island of the Winds, as the Greek jewel of Mykonos is known, is one of those places that not only has a reputation for high style and even higher hedonistic pursuits, but also lives up to them. Though other Mediterranean spots can now lay claim to being Europe's party central, this grand beauty of the Cyclades, with its stretch of sandy beaches, thatched windmills, picturesque port town, and jam packed Mykonos hotels during the summer, still draws celebrities, jet-setters, and nightlife lovers in equal measure.

But the offseason holds an allure of its own—if only to allow visitors the space to see the island itself and not the "scene" that defines it in the world's mind. Here, beaches offer up spiritual tranquility and mesmerizing seascapes, while even the wildlife (not the hotel Mykonos kind!), such as giant pelicans, stroll about enjoying the ancient splendour.

Below find a list of our selection of boutique and luxury Mykonos hotels.
A classic of 1960s hotel architecture has made a glamorous comeback on the Greek island of Mykonos, where cutting-edge chic meets breezy joie de vivre.
Melding the carefree finesse of '60s bohemia with a down-to-earth "gypset" approach, San Giorgio Mykonos is about ease and enjoyment.