Fresh Hotel
Member since 11/2004 Rooms 133 Architecture Zege: Zeppos - Georgiadi + Associates Interior Design Zege: Zeppos - Georgiadi + Associates
The Original Ada Yfanti
Hotels Facts & Figures
Member since
11/2004
Rooms
133
Architecture
Zege: Zeppos - Georgiadi + Associates
Interior
Design
Zege: Zeppos - Georgiadi + Associates
The Original
Ada Yfanti
Book

1
Room

,

1

Adults
Select your desired check-in and check-out dates to view the best rate
Rooms
Matching Your Dates
March 12, 2015 – March 14, 2015
View All Rooms
Superior Room

22 sqm (72sqft)
Twin Beds or Queen Size Bed
Private balcony
Free WiFi

Book Now

Executive Room

add only USD 67 /night

28sqm (91sqft)
Queen Size Bed
WiFi
Design fittings

Book Now

Family Room

add only USD 117 /night

44sqm (144sqft)
Queen Size Bed and Twin Beds
WiFi
Design fittings

Book Now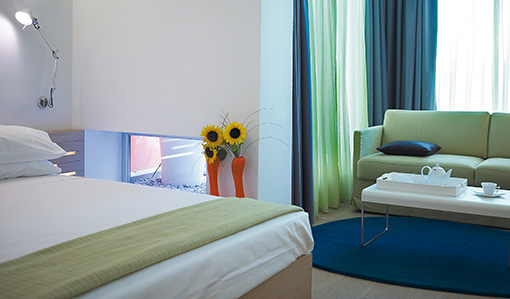 Set in a historical backdrop in central Athens, Fresh Hotel offers an electrifying medley of sleek formality and ancient splendor, where bold design fuses with a traditional location. This urban resort, the creation of owner Ada Yfanti, remains true to its name with a fresh palette of striking tones such as lime, fuchsia, and tangerine set against a simple white backdrop. The design and architecture, courtesy of local studio Tassos-Georgiadi + Associates, uses natural materials that seamlessly merge with bursts of intense color. The choice of materials was intended to simultaneously contrast and enhance Fresh's surroundings. Peppered with an impressive selection of design furniture handpicked by Yfanti, pieces by Charles Eames, Philippe Starck, and Zaha Hadid inject Fresh with a thoroughly distinctive interior.
Architecture
Tassos-Georgiadi + Associates
The aptly named Fresh Hotel adds a candy box kaleidoscope of color to an emergent industrial quarter—deliciously designed by Tassos Zeppos, Eleni Georgiadi, and their associates. The Fresh boldly mixes rich natural materials, like oak and walnut wood, with bright pinks and oranges, making it a clean-lined sanctuary from the flurry of downtown Athens just outside its doors. The nine-story building, with a pool and bar sporting a view of the Acropolis on the top floor, welcomes its guests into a lobby extending over two floors that gives you a taste of the funkiness to come upstairs. The 133 guestrooms, six of them with private, small Zen gardens, are temples to clean lines with sleek, modernist spaces broken up by bright slashes of orange, pink, and green against mauve and beige.
Interior Design
Color Correct
Furniture and fittings at Fresh, including Tolomeo lamps by Artemide, Starck's transparent polycarbonate Eros chairs by Kartell, and Urquiola's Lens tables by B&B Italia, are offset against other light oak pieces. A generous fireplace that is surrounded by an imposing black wall, meanwhile, stands opposite the reception created by an attractive pink glass box.
Made by Originals
Ada Yfanti
When the young and eager Athenian Ada Yfanti decided to break away from her family business at the age of 26, she set her sights on creating a hotel that would become both a landmark in Athens and an "it" spot for local creatives. Today, that mission has been accomplished. Yfanti juggles the Fresh Hotel, along with two smaller retreats on the island of Samos in the northern Aegean Sea, and the olive oil company Esti with her husband. It's a testament to Yfanti's precocious good taste that Fresh is a fixture on the Athens skyline, where it represents both exclusive serenity and urban energy.
Get up to 15% off

Complimentary breakfast

Miles & More
Great Deals at Other Design HotelsTM