The George
Member since 09/2007 Rooms 125 Architecture GRS Reimer Architekten Interior Design Sibylle von Heyden, Tom Schlotfeld
The Original Kai Hollmann
Hotels Facts & Figures
Member since
09/2007
Rooms
125
Architecture
GRS Reimer Architekten
Interior
Design
Sibylle von Heyden, Tom Schlotfeld
The Original
Kai Hollmann
Book

1
Room

,

1

Adults
Select your desired check-in and check-out dates to view the best rate
Rooms
Matching Your Dates
March 29, 2015 – March 31, 2015
View All Rooms
The George S

21sqm (226sqft)
Queen Bed
Complimentary WiFi
St George view

Book Now

The George M

add only USD 20 /night

26sqm (280sqft)
King Bed
Free WLAN
Garden view, some rooms with balcony

Book Now

The George Junior Suite

add only USD 105 /night

41sqm (441sqft)
King Bed
Free WLAN
St George view

Book Now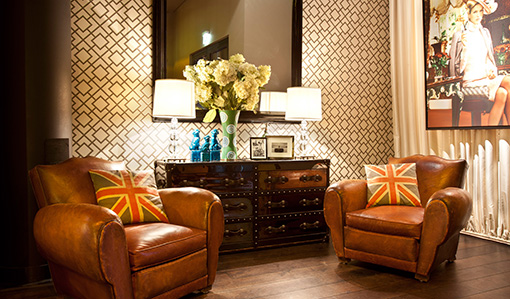 The George adds a touch of old-school elegance to the hip and fashionable quarter of St. Georg. Offering 118 smartly dressed guestrooms, five suites and two penthouses, The George is ideal for savvy travelers seeking the utmost in privacy. Conversely, the hotel also offers regally designed common spaces for discreet deal making, after-dinner reflection, and civilized conversation. The George is also a pioneer in the up-and-coming neighborhood on whose border it is situated: buoyant and bustling, St. Georg is one of Hamburg's most multifaceted, multicultural districts, where trendy boutiques and street cafés mix with remnants of the area's slightly seedy past. The hotel is a shining example of elegant chic melding with the fashionable and funky; a brilliant symbiosis of liveliness and relaxation.
ARCHITECTURE
GRS Architekturbüro Reimer + Partner, Hamburg
Injecting the classic sensibilities of English clubrooms with cutting-edge design motifs and stylish architecture, The George light-heartedly evokes the old, while lending a touch of timeless glamour to the new. Located in one of Hamburg's most vibrant and diverse neighborhoods—St. Georg, the hotel gives the trendy restaurants and inviting street cafés dotting the area a run for their money with an impressive restaurant serving Mediterranean fare and a sophisticated bar with plenty of outdoor space to be enjoyed in the summer.
INTERIOR DESIGN
Luxuriant privacy in handsome public spaces
This reinterpretation of English style in Hamburg results in rooms swathed in warm colors ranging from cocoa to Champagne, lamps with delightful pleated shades and stylish wallpaper in a variety of designs. Designer Sibylle von Heyden of SynergyHamburg created a number of visually varied common spaces – standouts include the austere smoker's lounge with striking leather furniture, handsome meeting rooms with dark timber flooring, a light-flooded rooftop spa, a restaurant-bar and a cozy, beautifully wallpapered library. Here, sleeping, meeting and dining are made to measure.
MADE BY ORIGINALS
Kai Hollmann
With his Fortune Hotels in Hamburg, Kai Hollmann heads five internationally renowned lifestyle properties, including the Gastwerk Hotel, The George Hotel and 25hours Hotel Number One. Trained as a chef and hotel manager, his career started at 24 when his position at "Hotel Hafen Hamburg" made him the youngest hotel director in Germany. In 2008, Hollmann was voted Hamburg Entrepreneur of the Year.
Stay 2 nights and save up to 20%

Complimentary breakfast

Miles & More

Discounted rates

Complimentary breakfast

Miles & More

2 complimentary nights

Complimentary breakfast

Miles & More
Great Deals at Other Design HotelsTM