25hours Hotel Number One
Member since 06/2003 Rooms 128 Architecture Interior Design Dreimeta
The Original Kai Hollmann
Hotels Facts & Figures
Member since
06/2003
Rooms
128
Architecture
Interior
Design
Dreimeta
The Original
Kai Hollmann
Book

1
Room

,

1

Adults
Select your desired check-in and check-out dates to view the best rate
Rooms
Matching Your Dates
March 8, 2015 – March 10, 2015
View All Rooms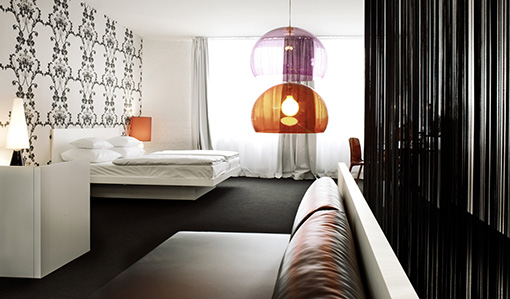 The eye-popping candy colors and inviting communal spaces throughout 25hours Hotel Hamburg Number One create a playful atmosphere equally suited to relaxation and revelry. Sixties and seventies-inspired design details begin with a dramatic metal-studded reception desk, hand-tufted pile rugs from Kasthall, and curved geometrical shapes in varying shades of pink, red, and orange. Located in the western part of the city at Otto von Bahrenpark, this laid-back, moderately priced hotel offers up communal spaces that encourage guests to meet and mingle, while families of up to four may share one of the specially created XL-Family rooms.
Architecture
Pretty in Pink
Surprise, seduction, and vigor are the basis of the 25hours hotel's concept. The entryway here is a stark and wild welcome that is echoed in the building's façade: a gun-metal and pink showcase that harkens the lively and spirited to come forth and make merry. Even your own arrival catches you pleasantly off-guard: 420 convex chrome mirrors stud the black, curved reception desk, reflecting your entrance manifold. Public areas are dipped in warm pinks, reds, and oranges, while guestrooms are cool retreats resplendent in pale blues or watery greens.
Interior Design
Bold & Beautiful
Design firm 3Meta held nothing back at 25Hours Hotel Number One, creating spaces that encourage its young clientele to communicate with one another. Low lounge seats by Zanotta and the spiraling flicker of disco balls transport guests to another era, while the Tiki vibe of the retro rooftop offers the ideal spot to soak up the sun or enjoy a cocktail.
Made by Originals
Stephan Gerhard, Ardi Goldman, Christoph Hoffmann & Kai Hollmann
The vanguard 25hours Hotel Company returns the tradition of the grand old hotel to contemporary form with its inventive, made-to-measure 'budget-de-luxe hotels with freshly interpreted service' where the staff maintains a concierge-level attentiveness, while invoking a laidback, authentic atmosphere. Each 25hours hotel tells a story via design concepts built from organic narratives inspired by the hotel's location, as well as pure imagination. Ardi Goldman is their resident visionary, from real estate development down to the finest detail of décor; Stephan Gerhard keeps his sharp Swabian eye turned to the numbers; Kai Hollmann is the grand seigneur of Hamburg's hospitality industry, and CEO Christoph Hoffmann claims the title of unwitting captain of their cunning fleet.
Great Deals at Other Design HotelsTM