The Pure
Member since 09/2005 Rooms 50 Architecture Scharnberger Architekten Interior Design Rosen Architekten
The Original Alex Urseanu, Micky Rosen
Hotels Facts & Figures
Member since
09/2005
Rooms
50
Architecture
Scharnberger Architekten
Interior
Design
Rosen Architekten
The Original
Alex Urseanu, Micky Rosen
Book

1
Room

,

1

Adults
Select your desired check-in and check-out dates to view the best rate
Rooms
Matching Your Dates
March 15, 2015 – March 17, 2015
View All Rooms
Single Room

18sqm (193sqft)
French bed
Free WLAN
Air Conditioning

Book Now

Double Room

add only USD 8 /night

24sqm (258sqft)
King bed
Air Conditioning
Free WLAN ...

Book Now

Balcony Double Room

add only USD 27 /night

24sqm (258sqft)
King bed
Air Conditioning
Free WLAN

Book Now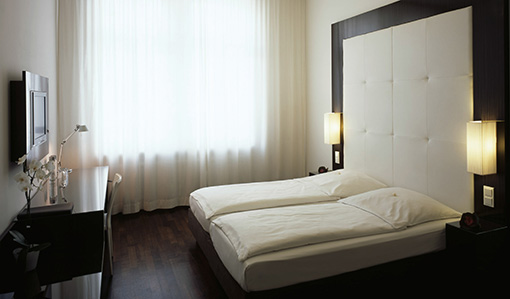 A completely renovated loft in the heart of Frankfurt, The Pure captures the city's cosmopolitan spirit. Here, amidst light-colored materials such as white leather, Thassos marble, and light gray floors, guests relax in a welcoming, family atmosphere. The harmonious public space with lobby, bar, and more, reinterprets the feeling of hominess, a concept that is emphasized by the work of artist Stefan Strumbel, who explores what 'home' means to different people. Lighting and music add ambience that changes throughout the day—soft illumination and tunes in the morning give way to an oasis full of energy with vibrant orange visual effects by night. Outfitted with oversize Fatboy beanbags, fountains, and bamboo, The Pure's patio effortlessly extends the communal space, while guestrooms offer clean-lined furnishings, light fabrics, and high ceilings, which are warmed by glossy African zebrawood and oak parquet. The result is, of course, Pure style.
ARCHITECTURE
A Pure Eye
The choice to use exclusively light colors and materials at The Pure allows the building and its structures to recede into the background, and directs the focus to the energy and activity within the space. Lighting and music are skillfully implemented to enhance the experience. The Pure Patio, meanwhile, is an extension of this communicative space. Its Timbertech decking is outfitted with stairs designed for comfortable sitting rather than climbing, while the lobby, the breakfast room, the bar, and the lounge form a harmonic open space fittingly known as the 'Living Room'.
INTERIOR DESIGN
Home Beautiful
The idea of space without borders and a sense of openness are emphasized by clean-lined furnishings, light fabrics, and high ceilings. If this is not one's idea of home, it soon becomes so during one's stay, where the notion of hominess quickly evolves.
MADE BY ORIGINALS
Micky Rosen & Alex Urseanu
For well over a decade, Micky Rosen and Alex Urseanu have set an aesthetic and entrepreneurial benchmark in their native Frankfurt, a city driven by finance and tradition. As pioneers in their hometown's hospitality scene and partners since the early 2000s, they are known for transforming underused spaces into irresistible hotspots. A trained hotelier, Micky Rosen is also an astute gastronome and was voted one of the Influential People of the Year by Frankfurter Allgemeine Zeitung in 2006 and 2007. Prior to founding Gekko Management with Rosen, Alex Urseanu held positions at the Steigenberger Airport Hotel and Kempinski Gravenbruch in the Frankfurt area, as well as Sheraton in Tel Aviv.
Great Deals at Other Design HotelsTM