25hours Hotel The Goldman
Member since 09/2006 Rooms 97 Architecture Alexander Bernjus, Hathumar Gisbertz Interior Design Michael Dreher, Delphine Buhro
The Original Christoph Hoffmann, Kai Hollmann, Ardi Goldman, Stephan Gerhard
Hotels Facts & Figures
Member since
09/2006
Rooms
97
Architecture
Alexander Bernjus, Hathumar Gisbertz
Interior
Design
Michael Dreher, Delphine Buhro
The Original
Christoph Hoffmann, Kai Hollmann, Ardi Goldman, Stephan Gerhard
Book

1
Room

,

1

Adults
Select your desired check-in and check-out dates to view the best rate
Rooms
Matching Your Dates
March 14, 2015 – March 16, 2015
View All Rooms
M-Room

22sqm (236 sqft)
Individually furnished
Queen or Twin bed
Free Wi-Fi

Book Now

M -Room+

add only USD 9 /night

22sqm (237sqft)
Queen Bed
City View
Free WiFi

Book Now

L-Room

add only USD 23 /night

28sqm (301 sqft)
Individually furnished
Twin bed
Additional seating

Book Now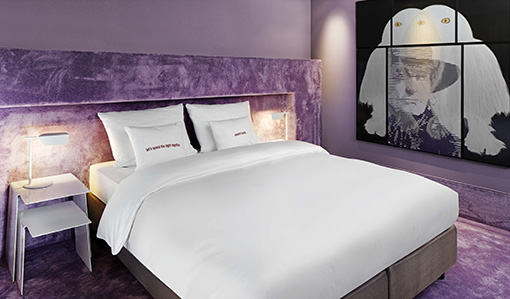 A repurposed hotel in Frankfurt's bustling Ostend district, 25hours Hotel The Goldman is both a hideaway and a local hotspot. Influenced and inspired by the diversity of "Mainhattan" (that's Frankfurt am Main) and the aesthetics of the UN Headquarters in New York, designers Delphine Buhro and Michael Dreher created a homey boutique hideout displaying a flamboyant mix of details. Each of the seven floors has its own consistent color scheme, and the 97 guestrooms are individually designed around local and international celebrities whose personal stories are expressed in the rooms. Guests get a never-ending variety of vintage eclecticism, and the themed rooms—like the Princess, Paris, and Casino rooms—add to the sense of fun. The Mediterranean-influenced Goldman Restaurant, meanwhile, provides the perfect social outlet, making the hotel a must for the city's style-conscious natives and a home base for young business travelers who appreciate individuality.
ARCHITECTURE
Bernjus Gisbertz
Sometimes great new stories come from dressing up the old ones. That's what the architectural firm bernjus.gisbertz has done at 25Hours Hotel The Goldman, adorning an existing building, the old Henninger Hof, with a stunning new façade that marries high-polished glamor with just a hint of naughty pleasure. Rarely does a hotel use space to draw you in as this one does. An interconnected lobby, lounge, restaurant and bar give a feeling of transparency to the entire ground floor, while a living room with its own private patio emphasizes a free-flowing environment. And it all leads one upward on a journey of creative beguilement to guestrooms stacked on seven floors, each with a 'godfather', a local notable, whose story is expressed by the room, giving guests a sense of Frankfurt's cosmopolitan nature.
INTERIOR DESIGN
Frankfurt Flair
For 25Hours Hotel The Goldman, Delphine Buhro and Michael Dreher have created hypnotic spaces, each with its own color scheme. All rooms display an exceptional mix of high quality design—lamps from Flos, furnishings by Swedish brand Snowcrash and fabrics by mfta and Romo—and individually picked vintage objects to provide a balance of timelessness and hipness—style with staying power.
MADE BY ORIGINALS
Stephan Gerhard, Ardi Goldman, Christoph Hoffmann & Kai Hollmann
The vanguard 25hours Hotel Company returns the tradition of the grand old hotel to contemporary form with its inventive, made-to-measure 'budget-de-luxe hotels with freshly interpreted service' where the staff maintains a concierge-level attentiveness, while invoking a laidback, authentic atmosphere. Each 25hours hotel tells a story via design concepts built from organic narratives inspired by the hotel's location, as well as pure imagination. Ardi Goldman is their resident visionary, from real estate development down to the finest detail of décor; Stephan Gerhard keeps his sharp Swabian eye turned to the numbers; Kai Hollmann is the grand seigneur of Hamburg's hospitality industry, and CEO Christoph Hoffmann claims the title of unwitting captain of their cunning fleet.
Great Deals at Other Design HotelsTM