Hotel ÜberFluss
Member since 12/2009 Rooms 51 Architecture Kastens + Siemann Architekten Interior Design Concrete
The Original Lüder Kastens
Hotels Facts & Figures
Member since
12/2009
Rooms
51
Architecture
Kastens + Siemann Architekten
Interior
Design
Concrete
The Original
Lüder Kastens
Book

1
Room

,

1

Adults
Select your desired check-in and check-out dates to view the best rate
Rooms
Matching Your Dates
March 23, 2015 – March 25, 2015
View All Rooms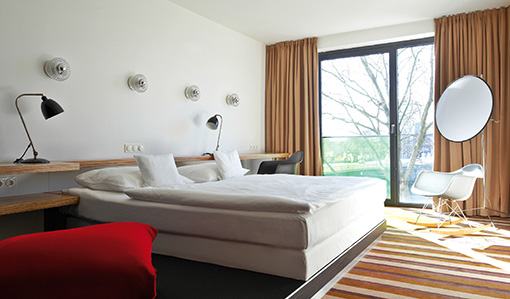 On a small, quiet street on the banks of the river Weser lies Hotel ÜberFluss, Bremen's first member of Design Hotels™. Some of the 51 guestrooms are endowed with baths and showers that open onto the rooms, while the suites comfortably accommodate open whirlpools and Finnish saunas, offering guests views of the Weser. Using a charcoal oven from Tuscany, the restaurant Le Gril by Loui & Jules interprets old home-style Italian and French cooking in a contemporary fashion – all lovingly prepared with carefully selected, fresh ingredients. For meetings and festivities, Hotel ÜberFluss provides two options: an airy, river-view space on the first floor that accommodates up to sixty people, or an intimate rooftop space with city views that holds up to forty guests.
Architecture
Medieval foundations
The exterior of Hotel ÜberFluss reflects the style of its neighboring historic patricians' houses. During its construction, pieces of the city's wall and the relics of four 1184 AD masonry chambers were discovered under its foundations. Hotel ÜberFluss incorporates this historical architectural legacy into its design scheme, in combination with a sleek, contemporary approach. The building's asymmetrical, slate colored façade begins to reflect the subdued quirkiness of its interiors, which were designed by Amsterdam's celebrated design firm, Concrete Architectural Associates.
Interior Design
Elegant and subdued
Predominately black, white and metallic, the color palette occasionally delves into drastic touches of deep red or vibrant yellow. The sleek black of the reception desk is balanced by the curvaceous white seating area to its side, along with the industrial-inspired lamps that shine brightly as spotlights. The 51 rooms vary enormously: some offer beautiful views of the river Weser, others feature the additional luxury of a whirlpool. Traditional, softer elements such as Chesterfield couches are set off with furniture by Charles Eames and Tom Dixon.
Made by Originals
Lüder Kastens
A native of Bremen, Germany, Lüder Kastens studied civil engineering in Münster and eventually landed a position with a successful engineering firm. With a self-made spirit, the then-29-year-old launched his own project development company, a+i- Bau GmbH, for which he is still a managing partner. Defying the expectations of a commercial builder, in 1995 Kastens converted an old ship-repair facility into the innovative PIER 2 convention center, which seats 4,000 people. Between 2004 and 2005, Kastens constructed Hotel ÜberFluss, incorporating Bremen's historical architectural legacy into its sleek, contemporary design scheme. A lover of football, tennis, and skiing, Kastens developed Werder Sports in 2011, one of the largest sports complexes in northern Germany.
Access to the spa area

Complimentary WiFi
Great Deals at Other Design HotelsTM