The Mandala Hotel
Rooms 158 Architecture Lauber + Wöhr Interior Design Lutz Hesse
The Original Lutz Hesse, Christian Andresen
Hotels Facts & Figures
Rooms
158
Architecture
Lauber + Wöhr
Interior
Design
Lutz Hesse
The Original
Lutz Hesse, Christian Andresen
The Pride Of Potsdamer Platz
The Mandala Hotel's Pursuit of Pure Perfection
In an urban center built anew by international star architects, The Mandala Hotel is standing out as much for how it acts as how it looks.
Design Hotels™ has been based in Berlin for the better part of two decades, and we're proud that one of our hometown member hotels, the all-suites Mandala was one of the first to join the Finding Infinity effort. This discreet escape amid a world of excitement is already close to being a zero-waste hotel. Its success is easy to understand: The Mandala Hotel, with its Chinese antiques (among other eye-popping wonders) handpicked by Lutz Hesse, who runs the hotel together with Christian Andresen, is one of the most organized businesses one could ever hope to encounter. These guys run a tight ship.
"Global warming is real. The guys who deny it are dying out, like dinosaurs. "
Wolfram Putz, Architect & Co-Founder of GRAFT
"Global warming is real. The guys who deny it are dying out, like dinosaurs. "
Wolfram Putz, Architect & Co-Founder of GRAFT
For starters, The Mandala Hotel sends zero waste to landfill (the diagram above shows you just how much thought goes into the breakdown of its goods). It is also working strictly with local suppliers to reduce the distances needed for its products to get to the hotel.
What's more The Mandala Hotel is in close orbit with creative folks who are boldly embracing the future. For example, Stefan Liske, an innovation designer and concept engineer, notes that in Berlin people eagerly donate their time and efforts when it comes making this a more livable, forward-thinking city. He says, "People come here because they find access to a lot of the important topics that really matter." Wolfram Putz, architect and co-founder of GRAFT, agrees, noting, "Everyone is coming here because they are curious about how they can help solve the world's problems. There's something in the air in Berlin!"
WINE & CIGARETTES
Friends with Solutions
One wouldn't think that finding answers to the sustainability question lay with someone who works in the auto industry. But then one hasn't met Stefan Liske. An innovation designer, concept engineer, and product strategist for many years in the German auto world, Liske strongly believes that change will come from the private sector.

"The quickest way to change things it through private businesses," Liske explains. "The innovators can be found there, and these companies are relatively small and, thus, bypass the governments and the large 'rule-makers.' That is the game changer."

Liske's friend and a legend in Berlin's sustainability movement, Wolfram Putz agrees, citing action not words as a big key to change. "We are doers," says Putz, who is one of the founders of the award-winning architecture firm GRAFT. "We are interested in making a difference. In Germany, we've had the green party in parliament since 1982, but it's taken three decades for us to go from being whiners to becoming doers."

In the sustainability world, there seems to be few better places to "do" than in Berlin. "Here ideas travel mega-fast and things happen," says Putz. "People get on board and contribute. We have a lot of dreams here."

" It's a good time for turning big wheels! "

Wolfram Putz, Architect & Co-Founder of GRAFT
MAKING MEANING
Beauty in the Bits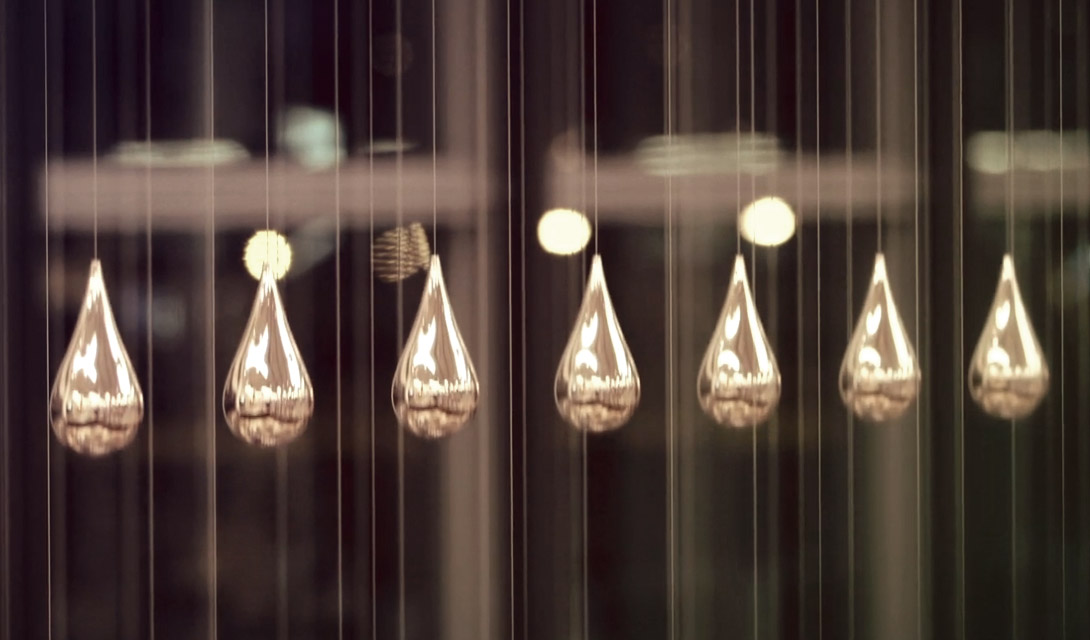 "It's not about technology, it's about beauty." These are not the words one would expect from a man whose work is rooted in technology. But then again, Joachim Sauter, professor for New Media Art and Design at the Universität der Künste in Berlin and the founder of ART+COM, is full of unexpected surprises. One of the founders of ChaosComputerClub, Sauter is busy these days connecting art with technology in order to better communicate a larger message; he calls it ART+COM. One might even call him a poet of technology.

"Technology is so important for the future, but without understanding," he explains, "there is no technology." With this philosophy in mind, Sauter bridges the gap between art communications and technology to create works that will blow your mind. And he works in, what he calls, "the renaissance of the physical world."

"With the internet," he says, "we live in an age where all information is accessible at all times. So information is no longer interesting. For me it's more about deciphering things and allowing people to see the beauty behind the information."

" When I need an idea, I don't go online or to the library. I go into nature and open the door to the subconscious. "

Joachim Sauter, Designer & Co-Founder of Art+Com
Join the Design Hotels Community to stay in the loop on news, stories, deals, and delights around the world.
Be a part of it and get what you deserve!
Are you already a member? Log in