Hotel Bel Ami
Member since 03/2000 Rooms 108 Architecture Christian Lalande Interior Design Véronique Terreaux, Nathalie Battesti, Marina Bessé, Pascal Allaman
The Original Anne Jousse, Philippe Maidenberg
Hotels Facts & Figures
Member since
03/2000
Rooms
108
Architecture
Christian Lalande
Interior
Design
Véronique Terreaux, Nathalie Battesti, Marina Bessé, Pascal Allaman
The Original
Anne Jousse, Philippe Maidenberg
Book

1
Room

,

1

Adults
Select your desired check-in and check-out dates to view the best rate
Rooms
Matching Your Dates
March 22, 2015 – March 25, 2015
View All Rooms
Superior Room

19sqm to 23sqm (204-236sqft)
Maximum occupancy of 2 persons
Double bed (160cm x 200cm) or Queen bed (180cm x 200cm), possibility of Twin beds (90cm x 200cm) on request ...

Book Now

Deluxe Room

add only USD 92 /night

25sqm (270sqft)
Maximum occupancy of 3 persons
Queen bed (180cm x 200cm) or King bed (200cm x 200cm), possibility of Twin beds (90cm x 200cm) on request ...

Book Now

Suite

add only USD 368 /night

35sqm to 45sqm (376-484sqft)
Maximum occupancy of 3 persons
Queen bed (180cm x 200cm) or King bed (200cm x 200cm) ...

Book Now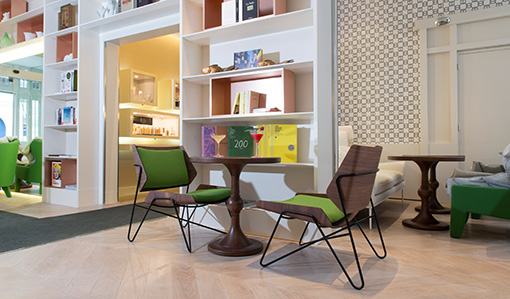 Located in the heart of Saint-Germain-des-Prés in Paris, which has attracted Parisian intellectuals since the 18th century, Hotel Bel Ami calls one of Paris' most storied districts home. Here you can enjoy the beautiful Rive Gauche, find some of the most complete and interesting bookshops in Paris, stop by one of the historical cafés, or simply get lost in the enchanting streets peppered with hidden restaurants and young designer boutiques around the church of Saint-Sulpice. Tucked away on a tiny side-street, Hotel Bel Ami brings together in its concept and design the most interesting characteristics of its setting: history, cultural life, and sophisticated choices for relaxing, shopping, and eating.
ARCHITECTURE
Philippe Maidenberg
Housed in a former 19th-century printing works, in which the first copy of Guy de Maupassant's novel Bel Ami was printed, the building was redesigned by architect and designer Philippe Maidenberg. The surrounding quartier Saint-German-des-Prés slowly grew around the ancient Abbey during the 12th-Century. Today, the Abbey is perfectly integrated to the Hausmanian architecture of Paris, and is the heart of the quartier. Its ancient history and lively cultural life are perfectly reflected in the Hotel Bel Ami, located in the heart of this neighborhood.
INTERIOR DESIGN
Low-key Luxe
Luxury fabrics and bright colors create an elegant, yet cutting-edge atmosphere. Hotel Bel Ami's 108 rooms and suites feature natural grey furnishing offset by green and blue tones that allude to the evening hues of Paris. While at Bel Ami Café, the radiant colors, a collection of art books and video-screenings showing Parisian life and the natural light entering from a bay window, make it the perfect place to enjoy a plentiful brunch.
MADE BY ORIGINALS
Anne Jousse and Philippe Maidenberg
Savvy businesswoman Anne Jousse is president of Jousse Bessé Signature, a family-run hotel brand that offers luxury with a human face. Jousse worked as an insurance broker for 20 years in the family business before turning towards hospitality. As travelers, the Bessé family seeks to create ideal spaces for business and leisure. Architect Philippe Maidenberg, who has worked in hotel architecture since 1995, has designed and renovated a diverse range of hotel rooms, suites, and properties around the world. And, of course, the outcome of Bel-Ami is no less brilliant.
Discounted rates

Complimentary breakfast

Miles & More

2 complimentary nights

Complimentary breakfast

Miles & More
Great Deals at Other Design HotelsTM