Kenoa - Exclusive Beach Spa & Resort
Member since 09/2010 Rooms 23 Architecture Osvaldo Tenório Interior Design Osvaldo Tenório
The Original Pedro Marques
Hotels Facts & Figures
Member since
09/2010
Rooms
23
Architecture
Osvaldo Tenório
Interior
Design
Osvaldo Tenório
The Original
Pedro Marques
Book

1
Room

,

1

Adults
Select your desired check-in and check-out dates to view the best rate
Rooms
Matching Your Dates
March 5, 2015 – March 7, 2015
View All Rooms
Apoena Suite

45sqm (484sqft)
King Bed
Sea View
Air Conditioning

Book Now

Marajo Villa

add only USD 308 /night

King Bed
Sea View
Air Conditioning
Wireless Internet Connection

Book Now

Jaobi Villa

add only USD 460 /night

King Bed
Sea View
Air Conditioning
Wireless Internet Connection

Book Now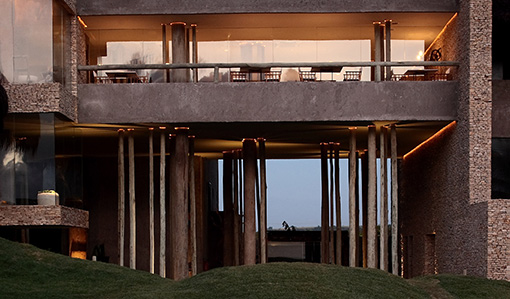 Neighboring a nature reserve, Kenoa – Exclusive Beach Spa & Resort takes pride in being located on the phenomenal, sunny beach of Barra de São Miguel. Each of the 23 villas and suites is in harmony with its stunning ecological surroundings without compromising the highest level of comfort and sophistication. Neutral colors set the tone for an outstanding yet humble design language that organically manifests itself amid the wildlife. A Shiseido-equipped spa, fitness center with ocean views, wine bar, lounge, and world-class cuisine tantalize the senses and satisfy the soul.
ARCHITECTURE
Osvaldo Tenório
Architect Tenório gently took the striking vegetation as a lead for the overall personality of the resort. Inside as much as outdoors, the design language is simple, calming and one of contrasts. One of the most outstanding architectural features is the reforested Eucalyptus tree trunks that seemingly grow through the hotel, piercing through floors and roof on their way up.
INTERIOR DESIGN
Locally grounded with a global vision
Opposing features and finishings results in a dynamic yet surprisingly soothing ambiance. Imagine polished wood contrasting with naked brick walls; pure and untouched materials rubbing shoulders with manmade design. While Kenoa is locally grounded, the interior design reflects a global vision, with artifacts from Africa to the Amazon. A play of textures, aromas, and essences, the aura of Kenoa is as embracing as the South American culture itself.
MADE BY ORIGINALS
Pedro Marques
Brazilian-born and former Deloitte engineer Pedro Marques found inspiration in his family's summerhouse and developed the eco-chic beach spa and resort Kenoa. With no prior hospitality experience, it was Marques' combination of entrepreneurial skills and solid network of friends and family that have made Kenoa one of the most stunning resorts in Brazil.
Great Deals at Other Design HotelsTM