LOISIUM Wine & Spa Resort Südsteiermark
Member since 11/2011 Rooms 105 Architecture Architektur Consult Interior Design BEHF Architects
The Original Susanne Kraus-Winkler
Hotels Facts & Figures
Member since
11/2011
Rooms
105
Architecture
Architektur Consult
Interior
Design
BEHF Architects
The Original
Susanne Kraus-Winkler
Book

1
Room

,

1

Adults
Select your desired check-in and check-out dates to view the best rate
Rooms
Matching Your Dates
March 22, 2015 – March 24, 2015
View All Rooms
Classic Room

28sqm (302sqft)
King or 2 Twin Beds
Forest View
Balcony 7sqm (75sqft)

Book Now

Prestige Room

add only USD 10 /night

30sqm (323sqft)
King or 2 Twin Beds
Countryside View
Balcony 7sqm (75sqft)

Book Now

Classic Suite

add only USD 74 /night

40sqm (431sqft)
King or 2 Twin Beds
Forest View
Balcony 7sqm (75sqft)

Book Now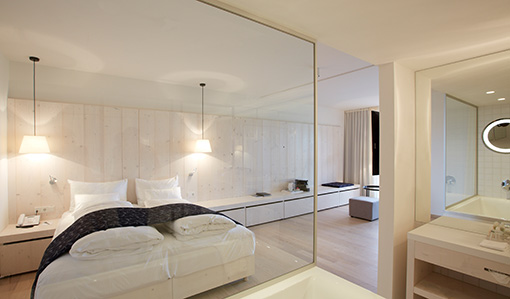 Rich sights and sounds will attract nature lovers to Styria in southeastern Austria. But the fertile region's prize-winning wine—given a fruity characteristic and dry finish by the clay-heavy soil—makes them linger even longer. At LOISIUM Wine & Spa Resort Südsteiermark, only 40 minutes from Graz, these delights blend with a bold, geometrical architectural concept. With views across the hotel's private vineyard and a well-stocked "Vinothek" offering wine-tasting sessions and seminars, wine is central to the LOISIUM experience, which extends to the LOISIUM Weinclub Bar and the panoramic terrace restaurant. But wine is not the only thing on the menu. After a day spent outdoors along the nearby river Mur, guests can relax in the LOISIUM Wine Spa, with environmentally friendly Aveda amenities.
Architecture
ArchitekturConsult
Crystal-clear windows, edged by coarsely cut local materials, reflect the surrounding jade and olive hues, while carefully selected natural colors help the structure stretch smoothly across the landscape. With Peter Zinganel and Hermann Eisenköck of award-winning practice ArchitekturConsult at the helm, a typical 'resort hotel' was never really an option. Instead of relying heavily on visible steel columns, which so often form the outline of contemporary hotels, the pair made use of unrefined Austrian materials—providing a new slant on the region's traditional building styles. Visitors only have to look across the vineyards to Schloss Ehrenhausen, a centuries-old castle with stark white facades, to see how things have changed.
Interior Design
BEHF
Inside LOISIUM, interior designers from Austrian firm BEHF have worked painstakingly to capture the warmth of Styria's sunny, almost Mediterranean climate. Like the public areas, the 105 rooms and suites are stripped down and spacious, allowing reflections of the landscape to rebound off the white walls. Even the meeting rooms are lit by amber-colored sunshine, and glimpses of Ehrenhausen Castle can be caught around almost every corner.
Finding Infinity
Deep into the Woods
Dense forests and fertile vineyards embrace the LOISIUM Wine & Spa Resort Südsteiermark, in South Styria. But that's not all that welcomes visitors. Here, they find a determination to preserve a region known as "the Tuscany of Austria" through slow-food movements, biomass heating, and more.
Made by Originals
Susanne Kraus-Winkler
Susanne Kraus-Winkler is a long-standing and highly recognized tourism and hospitality expert in Austria. After graduating from the Vienna University of Economics and Business Administration, Kraus-Winkler became the senior partner in the Vienna office of Austria's leading tourism consulting company, Kohl & Partner. With more than twenty years of management in her family's hotels and restaurants, Kraus-Winkler is the founding partner of the LOISIUM Wine & Spa resort hotels, uniting the timeless lifestyle trend of wine with her love of modern architecture to create an exceptional experience. Kraus-Winkler is currently president of HOTREC, the European Hotel & Restaurant Association in Brussels, and lectures on tourism and leisure real estate at various academic institutions across Europe.
Great Deals at Other Design HotelsTM