Design HotelsTM
Community
Already a member? Login
Over the past 20 years, we've attracted people looking for authentic experiences – fellow
travelers who want to immerse themselves in the local cultures and discover new things about themselves.
Revel in the magic of traveling with us. We are the Design Hotels Community.
BE A PART OF IT AND GET WHAT YOU DESERVE.
EXCLUSIVE
INVITATIONS

to Community events

PRIVATE SALES

discounts up to
-50%

MILES & MORE

earn 500 award miles
with Lufthansa
on every stay

FREE BREAKFAST

at selected hotels

FREE WIFI

at selected hotels
Discover how our hotels thrive as responsible members of their communities.
Made by Originals
Petter A. Stordalen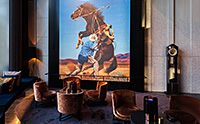 At the age of twelve, environmentalist Petter A. Stordalen became Norway's top seller of strawberries. Today, he's not only preserving the environment, he's reshaping it with an island hotel that's setting a new standard for sustainability, art, and architecture.